1 December 2023 - The Venue, Event Lounge, Bd. Général Wahislaan 16F, 1030 Brussels, Belgium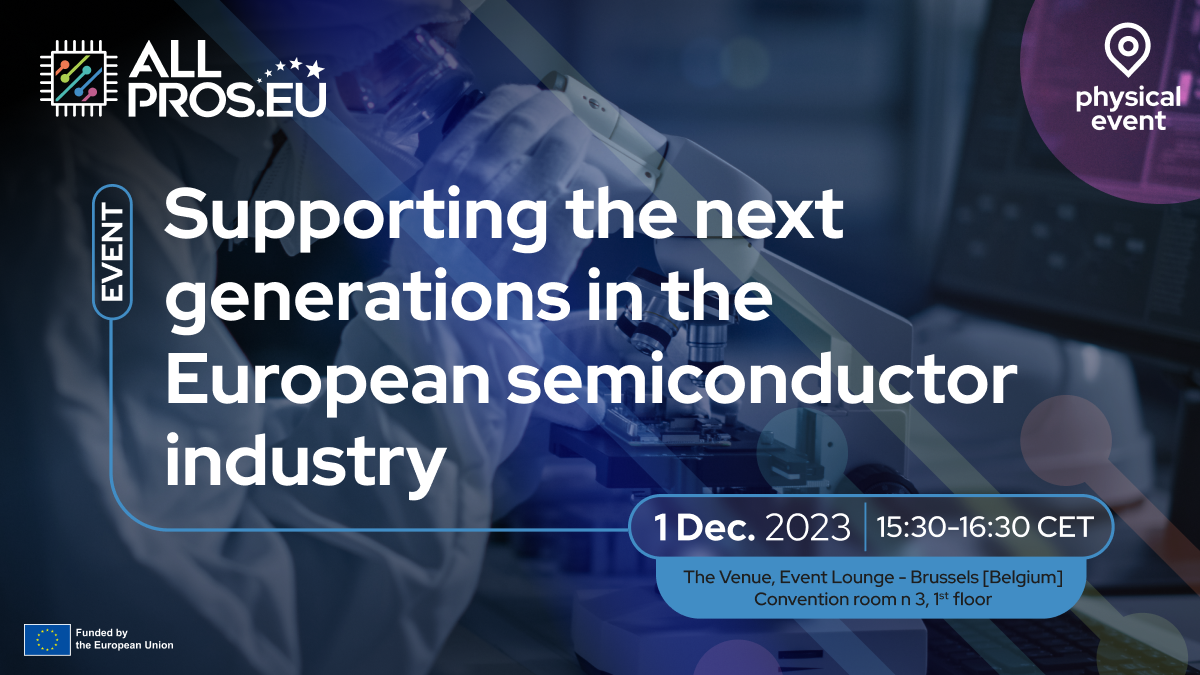 1 December 2023 | time 15:30 - 16:30 CET |
Venue: Convention room n 3, 1st floor
Location: The Venue, Event Lounge, Bd. Général Wahislaan 16F, 1030 Brussels, Belgium
Purpose & Scope of the Event
This one-hour workshop is designed to stimulate stakeholders into the very much needed dialogue of bridging governments, academia & industry in taking an inclusive approach to skills development to foster a more inclusive environment and culture within the European Semiconductor industry.

A dedicated workshop with experts on the topic organised last May 2023 by ALLPROS.eu project established a set of principal take-aways for stakeholders to move forward from the post-event report "Bridging the skills shortage in the EU semiconductors Industry".

The discussions suggested training and educational opportunities for undergraduate students to inspire them to pursue Master programmes in the field.
Experts also suggested working together instead of competing for talent, this way the community should unite and collaborate to cultivate a robust, diverse, and motivated talent pool by fostering cooperative "umbrellas" of collaboration, allowing to collectively achieve the shared goal.

What are the main goals of this workshop?
Provide new data generated by the project on skills in the semiconductor industry;
Provide insights on how to advance from the old educational model by integrating more experiments and innovation in the educational system;
Provide the means of working together with industry & academia to offer scholarships across disciplines & especially in STEM or Engineering disciplines;
Need to collect and share data on inclusion in different countries, as this allows to compare the baseline and understand the needs;
Create female STEM – alliances, partnerships, workshops, mentoring programs etc.
Emphasise the importance of starting skill development at the school level, in particular for girls;
Provide Industry, governments & academia with guidelines to align on long-term goals.
Who should attend and why
The session is open to all participants of the Chips Joint Undertaking Launch Event, in particular:
SMEs, mid-caps and industry representatives, as well as academia and government representatives
KTD JU projects
HE & DEP EC-funded projects
IPCEI reps
Large Enterprises
Trade Associations
Research & Education
Policymakers
Anyone interested in showcasing a product or solution developed in semiconductors & chips
Output
The result of the discussions will be in a concise report that gathers insights from the experts involved from govt. Industry and academia with structured guidelines and best practices of ongoing, successful activities in different organisations with the idea to roll-out similar successful solutions across Europe.
A decision on setting up a Thematic Working Group (TWG) on skills could be a concrete outcome of the workshop (with the caveat the TWG will be transformed into a Alliance working group once the Alliance exists)
Agenda
15:30-15:35 – Welcome and Introduction

Speakers

Silvana Muscella

CEO of Trust-IT, ALLPROS.eu Technical Coordinator

Moderator

15:35-15:40 – Keynote

Speakers

Lucilla Sioli

Director Artificial Intelligence and Digital Industry (CNECT.A), European Commission

Speaker

15:40-15:50 – Skills Needs, Shortages and Gaps in the Semiconductor Industry – What chip manufacturers and chip users really say

Speakers

Giorgio Micheletti

Speaker

15:50-16:20 – Panel Discussion: "Best Practices on the Triple Helix Approach to tackle the skills gap"

Speakers

Janine Dobelmann

Head of Government Affairs EU, NXP Semiconductors

Speaker

Salvatore Moccia

Head of Education and Skills, EIT Digital

Speaker

Matthias Illing

Robert Bosch GmbH

Representative of the TRASFORM Group of IPCEI ME/CT

Speaker

Emir Demircan

Director of Public Policy, Infineon Technologies

Speaker

Victoria Cummings

Senior Manager, Workforce Development and Skills, SEMI Europe

Speaker

16:20-16:30 – Q&A with the audience, opportunities & Next Steps

16:20-16:30 – Wrap-up & meeting closure