22 May 2023 - Online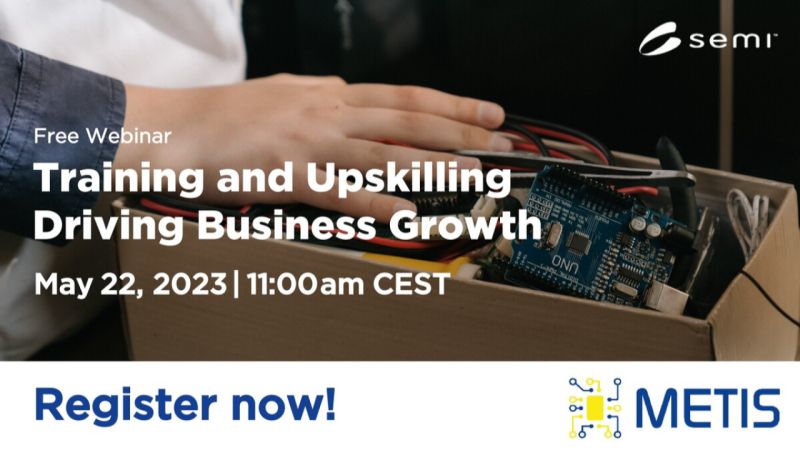 METIS (MicroElectronics Training, Industry and Skills) is holding a webinar to facilitate the flow of information and the development of microelectronics skills. The event will showcase the METIS efforts to increase sectoral cooperation and investment and highlight its catalogue of courses and learning experiences. Additionally, the event will introduce the SEMI University to further commit to bridging the skill gap in this field and will account for stakeholder input in the appropriate sessions at its conclusions.
The webinar will be held on 22.05.2023 from 11:00 am - 12:30 pm.
In this webinar, participants will gain insights into the following:
The comprehensive range of courses available in the METIS catalogue, covering various aspects of microelectronics. These courses encompass topics such as Semiconductors Introduction, Packaging Technology, AI, and much more.
Real-life illustrations of courses and experiences shared by education and training providers, as well as their students and trainers.
The valuable long-term prospects presented by METIS through its supplementary resources.
AGENDA
Agenda
Training and Upskilling Driving Business Growth

11:00-11:05 Welcome Remarks (Christopher Frieling)

11:05-11:15 Introduction and Overview of the METIS Course Catalogue (Bernd Deutschmann; Dominik Zupan)

11:15-11:30 Course Pitches (Adil Masood; Najah Jassem; Ahmed Elrouby)

11:30-11:35 SEMI University Introduction (Naresh Naik)

11:35-11:45 Recognition and Stakeholder Feedback (Manuela Costone)

11:45-12:30 Live Q&A Session (Christopher Frieling)