22 September 2023 · 2 min read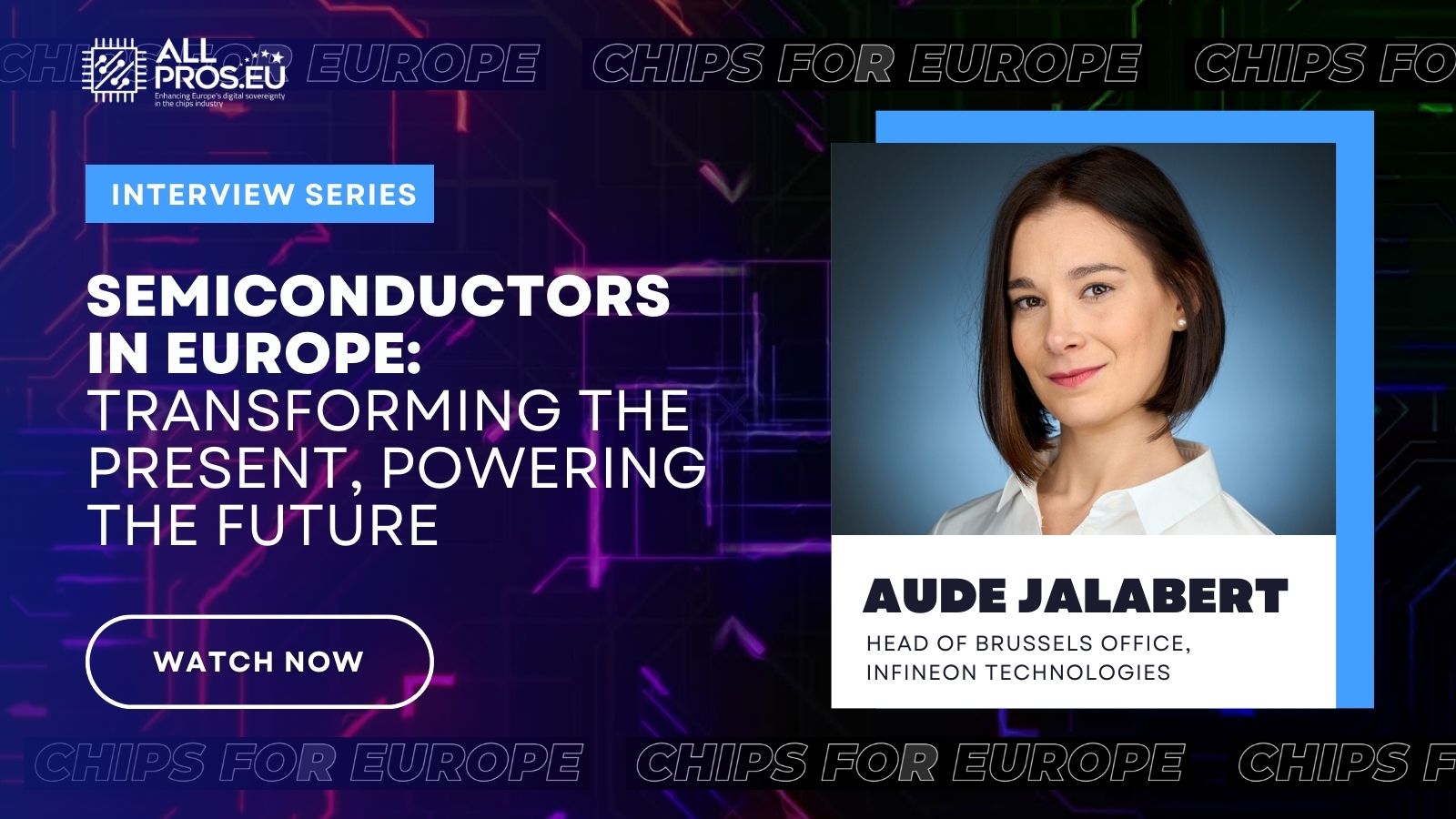 Semiconductors in Europe: transforming the present, powering the future
In today's entry for our ongoing series of interviews with experts in the field of semiconductors, we interviewed Aude Jalabert, the Head of Brussels Office for Infineon Technologies. Infineon is Germany's largest semiconductor manufacturer, as well as being in the top 10 worldwide.
Having worked at Infineon for almost 9 years in high-level positions (she was previously Director of Trade Compliance), Ms. Jalabert has a prestigious bird's eye view of the semiconductor business ecosystem.
"This is a B2B industry, with little to no direct contact with individual customers, which is why it's not very well known to the individual public; everyone knows what the automotive industry is and what it's doing. I'm not sure the same can be said for the semiconductor industry."
This lack of awareness is part of the reason why companies are facing an employment shortage for semiconductor manufacturing and design, she explains. Additionally, Ms. Jalabert echoes previous interviewees observations on the indirect costs of technological advancement and increasing automation in the supply chain: though production quality and quantity has increased, education has yet to catch up to the evolving skill set requirements.
Still, the potential talent of the youngest generations is something Infineon and other companies are ready to tap into, as evidenced by significant measures of expected growth. Though she highlights the need for more knowledge of application, knowledge of new materials, and machine learning, Ms. Jalabert states that the chips industry provides one of the most promising and explorative professional environments not only for young people in general, but also for women of every age:
"There is choice, there are possibilities to explore everyone's potential and to evolve because many jobs do not even exist yet. Today, it's important that women know that they are more than welcome in the semiconductor industry: we need the brightest minds, the most ambitious visions and the biggest motivation. Our future cannot be written without women."
Key to understanding Ms. Jalabert's enthusiasm for the role of semiconductors in writing the future is the global perspective on their environmental and societal impacts: they play a crucial role in achieving a climate-neutral and digital world by shifting our energy production to renewable sources, electrifying areas currently dependent on fossil fuels and biomass energy, and increasing energy efficiency. Semiconductors are the basis of this transformation and, as such, are a key strategic resource not only for Europe but for the world.
In closure, Ms. Jalabert paints a picture of the European semiconductor industry that, though recognizing its problems with business-like practicality, is not afraid to rise to the challenge and recognize its internal and external potential.
"People can find their higher purpose in semiconductors because it's not just a job, it's a motivation, it's a challenge, and it's a promise for the next generations."