9 November 2023 · 1 min read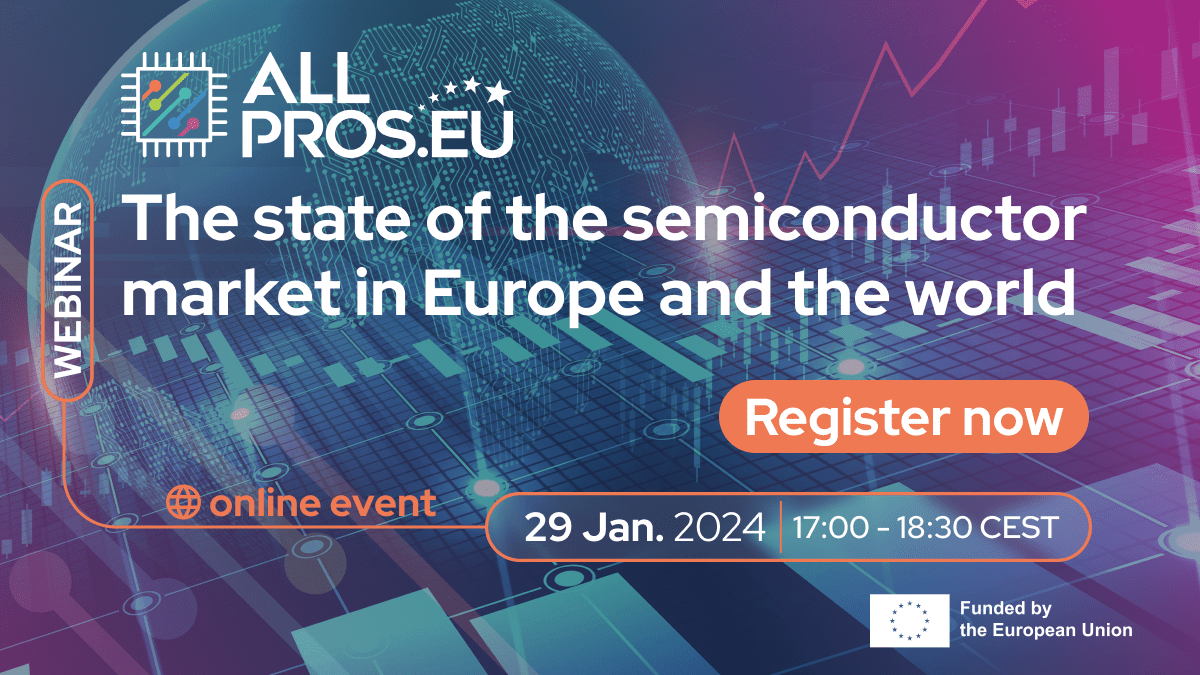 IDC has organised a must-attend webinar that will be held on January 29, 2023 at 17:00 CET, within the remit of ALLPROS.eu the CSA DEP project funded by the European Commission, entitled 'The state of the semiconductor market in Europe'.
Register here and join us for the inaugural episode of the Market Trends Webinar Series - registration is free of charge but mandatory. 
We'll delve into the dynamic world of the global semiconductor industry, with a special focus on Europe. This exclusive event promises to provide valuable insights into the semiconductor value chain, market dynamics, and the influential factors shaping this ever-evolving sector. 
What to expect
After a warm welcome and a brief introduction to the ALLPROS.eu project, we'll zoom into the current state of the industry and get a glimpse of what's happening globally—Europe, Asia, North America, and the rest of the world.
The webinar intends to provide forecasts for the industries on the current trends. It will be possible to gain access to expert forecasts for the semiconductor industry, with a focus on the next few years and insights segmented by various aspects and overall strategies.
It will provide business Trend Awareness by helping to understand the business trends that are driving silicon content forward. For this reason it will explore the impact of emerging technologies like AI and High-Performance Computing (HPC) and their influence on industries such as automotive.
The webinar will tackle the Skills-Related Challenges faced by the semiconductor industry and it will be an amazing opportunity to learn about ongoing projects designed to address these issues, with a strong emphasis on university-industry collaboration. You will get an overview of the strategies and initiatives from industry leaders aimed at resolving challenges and optimising supply chain operations.
For more details on the webinar's agenda and speakers visit our events section!