17 November 2023 · 1 min read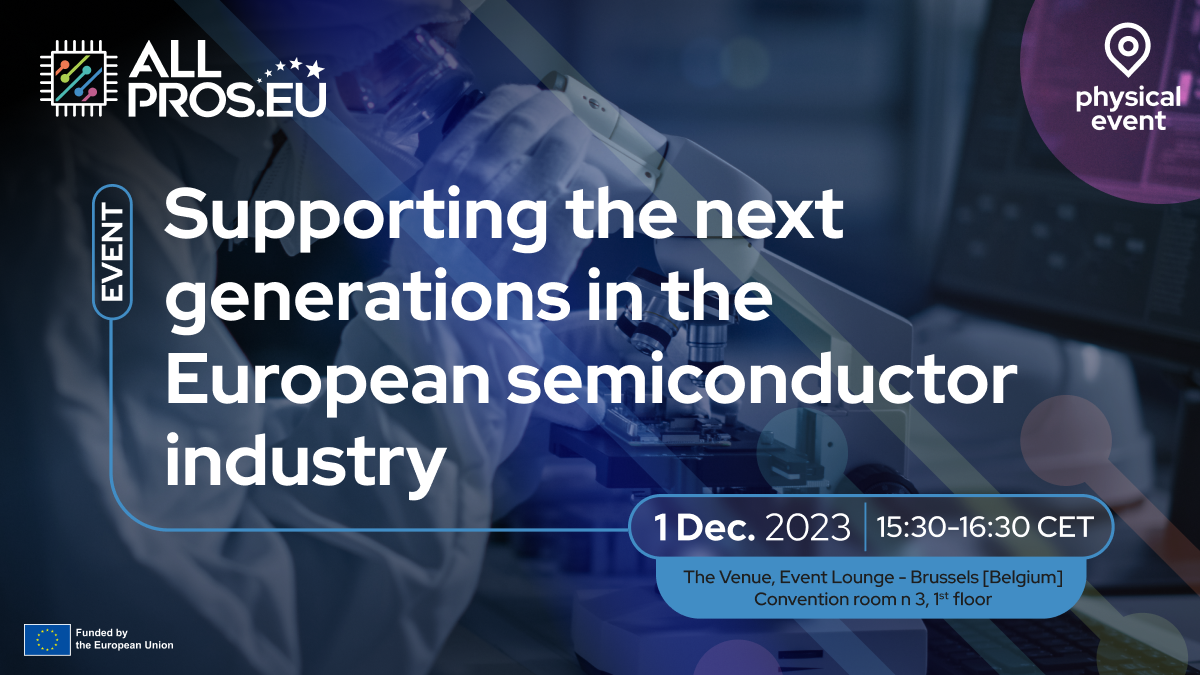 ALLPROS.eu, the CSA DEP project funded by the European Commission will be hosting a one-hour workshop on December 1, 2023 during the Chips JU Launch event in Brussels. 
The event aims to instigate a critical dialogue among stakeholders, bridging the gaps between governments, academia, and industry while fostering a culture of inclusivity in skills development.
Central to this initiative is to discuss with experts how we could answer the skills gap. The main challenges related to this issue emerged in dedicated workshop held last May 2023, organized by the ALLPROS.eu project. The post-event report, titled "Bridging the skills shortage in the EU semiconductors Industry," provided a roadmap for stakeholders, outlining principal takeaways to navigate the challenges and move forward collectively.
Industry experts proposed a collaborative approach over competition to build a robust, diverse, and motivated talent pool. The concept of fostering cooperative "umbrellas" of collaboration emerged, encouraging unity within the community to collectively achieve shared goals. The event aims to provide industry, governments, and academia with guidelines for long-term alignment and shared objectives.
The upcoming workshop has clear goals of establishing means of collaboration between industry and academia by providing new data for the industry, offering insights on new educational models by integrating experiments and innovation. It is also fundamental to emphasize the importance of inclusion, for this reason, ALLPOS.eu aims to collect and share data on inclusion in different countries for a comparative understanding of baselines and needs.
This workshop will contribute in shaping the trajectory of the European Semiconductor industry, fostering collaboration, inclusivity, and innovation. Stakeholders from various sectors are invited to actively engage in this transformative dialogue and contribute to building a more resilient and forward-looking industry.
For additional information on the event and speakers, please visit our events section.